Diamond Wool® Pad Co. is The Natural Choice for saddle pads.
When we started the wool saddle pad business in 1992 the market at that time mainly consisted of low quality and imported saddle pads.
Long ago, saddle pads were constructed using natural fibers. After extensive analysis, we decided to develop a line of saddle pads using wool as the main component.
The wool felt Diamond Wool Pads uses is a mechanically combined felt and is made to our specifications which allows for control over quality and consistency. The wool fibers in this type of wool felt lay vertical, not horizontal, which allows more resiliency, more shock absorption and more moisture absorption insulating against both cold and heat.
This mechanical wool felt process also allows your wool felt saddle pad to conform to the shape of your horse's back and to mesh with the hair on your horse's back which prevents the shifting of the wool saddle pad while riding.
With a dedicated commitment to providing wool saddle pads manufactured using domestic materials and craftsmanship, Diamond Wool® saddle pads have become a well-respected and trusted choice of horse enthusiasts around the world.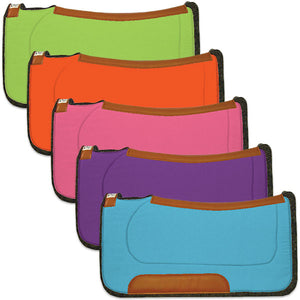 Saddle Pads Are Our Only Product
We are focused and dedicated to improving and developing pads to meet your specific needs.
We are "The Natural Choice"
Our pads are based on Wool Felt. Next to your horse there is nothing better than a Diamond Wool® Pad.
We do not import any pads. All pads are made in our facility in Rhode Island.