The Purpose of a Pad
First and foremost a saddle pad makes a saddle more comfortable for the horse. It helps to eliminate friction between the saddle and the horse's back. It also provides cushioning for the horse and rider. Wool felt saddle pads help to relieve pressure points and disperse the weight of the saddle and rider evenly. They also reduce slippage due to sweat. There are several pads on the market today and only wool felt has stood the test of time. To keep your pad lasting even longer, clean your saddle pad often. Visit our Care page for more information on how to care for your wool pad.
The Importance of Wool
No other material combines comfort, safety, care, and durability like wool. While synthetics only trap moisture between the fibers, wool absorbs moisture away from your horse and insulates against both cold and heat. Since moisture absorption and release are gradual, wool is slow to feel damp and does not chill your horse by too rapid drying. In short, wool breathes. Wool is an amazingly strong fiber composed of protein that grows with a crimped wavy form, giving wool excellent properties of elasticity and resilience. This unique structure enables it to mesh with the hair on your horse's back, which prevents the shifting of your pad while riding. This resilient fiber is long wearing and has the ability to retain shape, drape well, and resist wrinkling due to its natural elasticity. Wool cleans easily and will not soil or stain like synthetics because the unequaled structure withstands dirt penetration. The felting process increases the strength, durability and shock absorbency of wool felt. This process also allows your pad to conform to the shape of your horse's back to provide soft cushiony protection, for both horse and rider in the years to come.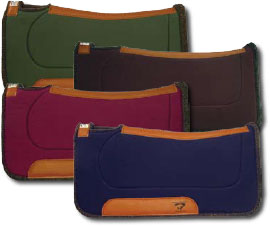 Structure of Wool
The structure of a wool fiber contains many distinctive properties. The bulk of the fiber consists of spindle-shaped cells running lengthwise and these are surrounded by a layer of scale like overlapping cells. The entire fiber is sheathed in a thin membrane impervious to liquid but with tiny pores through which vapor can pass and be absorbed by the fiber. This absorbency enhances wool's natural resilience.